In Sabadell-based painter Fidel Trias Pagès we have an indisputable example of a man who devoted his entire life to art in a passionate, self-demanding way. His vocation as an artist became clear at an early age: he held his first exhibition in 1942.
The Civil War forced him to interrupt a career for several years that had begun to bear enough ripe fruit to herald a maturity, rigour and vocation that would only keep being reaffirmed until his unfortunately premature death.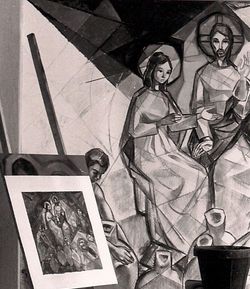 That first exhibition, held at the Sabadell Fine Arts Academy, was also the start of a close relationship with this academy, of which he would become one of its most active members at times that were particularly critical for the institution's survival.
At first, his paintings basically included portraits, floral motifs, landscapes and still lifes, subjects he would revisit in the last years of his life.
The year 1952 marked the appearance of religious subjects into his oeuvre, which came to gain prominence until they become the main bulk of his work as captured in a series of murals. They began with the chapel of the Most Holy Sacrament in Sant Feliu del Racó and reached their peak in the paintings in Sant Oleguer church in Sabadell.
Fidel Trias' conception of murals can be briefly illustrated in his own words:
A mural must adapt to the shape of the part of the building it is covering. The flatness of a wall, the interruption of a window, the curve of an arch, the concave shape of a vault... It must be structured within the rhythms of the architecture [...], relinquishing any illusions of perspective and respecting the plane of the wall.

Yet all that is nothing, just the beginning, just the plan. Getting it right, joy, comes -if it comes- afterwards, gratuitously, very rarely and in the midst of hours and hours of toil.

- Fidel Trias